Or maybe not you, but other travellers we have met have said, "Oh, you're going to Azrou? That's where the monkeys are. And the Tuesday souk."
For everyone who has heard ho-hum remarks about Azrou, we're here to hype it up and make it hum! Drop your nonchalance right there and get ready to get eager! Azrou is a convenient stopping place between Marrakech and Fez, but it's more than a pit stop. Yes, it is worth staying even if you're not there for the Tuesday souk. You can even buy carpets on an off-day from a regular vendor. Not even regular, but spectacular! Our experience with Si Mohammad, left us dying to buy more — just the way a shopper should feel!
So many times in Morocco, we walk away feeling abused and confused, wondering why we bought that ceramic pot at a price we never intended to pay. What exactly are we going to do with that pot, again? How will we fit it in our jammed-packed suitcase? In Azrou, we found this skilled salesman only too willing to work with us. As we hemmed and hawed, he bargained with himself to make it easy on us.
"Oh, students, students," he groaned, as though this were weighing heavily on his heart. "I know, you're learning Arabic, it's difficult; I will have to bring the price down again. Miskina! ("You poor thing!")"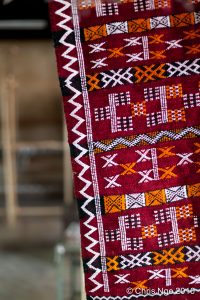 Seeing as he felt so much agony for those on a shoe-string budget learning Arabic, we couldn't help but make a small purchase. He explained to us some of the Berber symbols on the rugs hanging up in his shop. It was not just an exchange of money and product, but an exchange of ideas and culture. He humoured our practice of Arabic, and taught us about some of the gender divides in his culture. "I don't make the rugs!" he exclaimed, insulted, when we queried. "Women make rugs! Men make wooden things!"
If shopping isn't your thing, try a coffee at Café Bilal while your travelling companions get busy buying. At Bilal, you will even see groups of women sharing a moment of conviviality (rare in Morocco). They have tasty pastries there, and at bakeries across town. We sampled some at L'Escalade and were far from disappointed. L'Escalade has their prices clearly marked, and this can be a relief after bargaining your way across town.
At Creative Interactions, we love culture and travel. And to help you experience more of the culture, we believe a little language goes a long way when you travel. So consider one of our Explorer courses at the start of your trip to learn some Moroccan Arabic – greetings, simple phrases, how to bargain, and more.
An added service we offer is a personal shopper to accompany you as you go souvenir hunting — to point you to the best bargains and to provide advice on prices and quality.
We also offer travel consultation and itinerary planning, as well as recommended accommodation, tours and transport services through our travel partners. Email us: [email protected] — to book a course, personal shopper or consultation today!