Walk along the streets of any major city in Morocco and you will not fail to see cafes with their tables lining the sidewalks and seats facing the street … perfect for watching the world go by.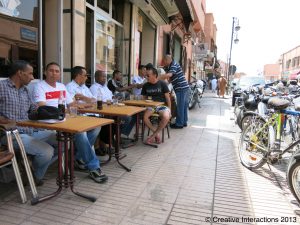 Depending on the neighbourhood and city, some cafes are the domain of men only. During the day, you see them, mostly in pairs, sitting side by side, sharing a joke, talking business or just passing the time of day.
At night, if there is a football match on, you will find fans with their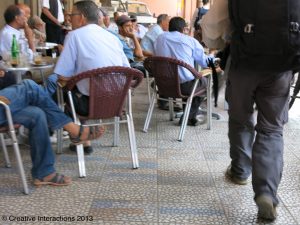 eyes glued on the wide screen TV and cheering on their team, while enjoying their coffee or mint tea. In fact, all the patrons of a particular café may support the same team and if you are caught unaware, you might find yourself the only one cheering the rival team!
With simple observation, increasingly, you will find cafes that are women and family friendly. And they are a great place for catching up with friends, having weekend brunch, or just some time alone.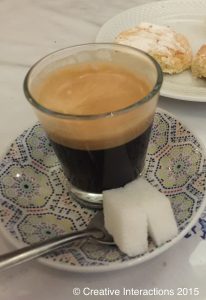 Next to some cafes, you might find a patisserie where you can buy a croissant or slice of cake to have with your coffee. Isn't that a great example of synergy and mutual promotion?
Coffee and mint tea are the year round staples … always served with cubes of sugar on the side. Fruit juices are refreshing in summer; while in winter, verveine or luisa (on it's own or with milk) is nice and warming.
What is your drink of choice when you go to a cafe? Where is your favourite café in Marrakech for hanging out?