If you're up for an adventure filled with language and culture, then homestay is for you! Well, maybe. This is not an experience for the faint of heart. Homestay can be emotionally challenging and linguistically frustrating — but also times of great growth. No pain, no gain? Perhaps.
We've known people who have had wonderful experiences terrible experiences, and everything in between, but rarely is the word "boring" used to describe a Moroccan homestay. We would venture to say, "Never," but then we don't want to make assumptions.
It is fairly safe to assume, however, that you will gain insights into Moroccan culture that you would not otherwise have. It is a unique privilege to share the home of a local family for a short stay. (Hint: If you view it as an economic transaction, homestay is not for you.) It is the perfect place for cultural observations, from watching local television programming to experiencing the culinary delight of couscous on Friday afternoon.
And, of course, some things are universal. We've seen participants of homestay go through family dramas with teenagers changing hairstyles, family celebrations of good grades or new jobs, and even family visits to a working parent to deliver hot tea! There is no better place to meet people than where they currently are — and for many people, that's in the home.
So consider doing it — the opportunity to drink glass upon glass of Moroccan mint tea, eat tajines, hear Darija day-in and day-out — and think long and hard on whether you have the courage.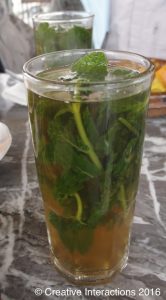 Not every family, after all, is used to the ways of expatriates, and you must learn to respect their rules — whether the easy way or the hard way! And not every family you meet will be sensitive to your language learning curve. We know one participant who was airily dismissed by a host sister, "If I were doing the equivalent of what you're doing, I would be fluent by now." (This participant was at level 0 of Arabic and had signed up for a two-week homestay!)
Beware! But be eager! Because there's no better combination for learning the local dialect of Arabic than a host family and a glass of sweet Moroccan mint tea.
Contact us at [email protected] to arrange your homestay experience today!