What happens when you combine culture and photography in Morocco? We think it's an excellent recipe for success!
And that's exactly what happened with the inaugural event of the collaboration between Creative Interactions, Open Doors Morocco and Marrakech Henna Art Café (home to El Fenn Maroc).
For this first event, we partnered with The Giving Lens, an American-based company founded on three passions: travel, photography and giving back. They do this by running international travel photography workshops led by professional photographers. During the trip, they volunteer their time and talents to a local non-profit.
The Giving Lens Morocco Tour started with language and cultural orientation and training provided by Creative Interactions. It was a good start by learning a bit of Moroccan Arabic with our local ambassador / teacher Sara. Aside from the standard greetings, we also covered the all important question – "May I take a photograph?"
Culture Chat with local photographer Hussein on the nuances and etiquette of photography in Morocco was also very helpful and insightful, providing practical tips for  the photographers for the next part of their tour.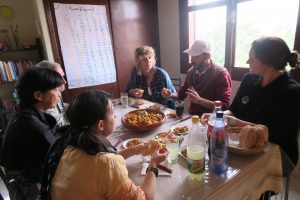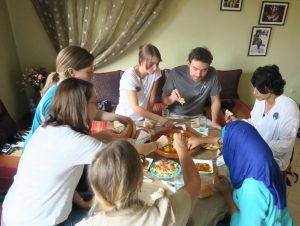 What better way to wrap up our time together than sharing a delicious tajine!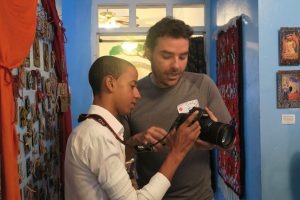 Next stop on The Giving Lens Morocco Tour was the MarrakechHenna Art Café where the TGL volunteers conducted a photography workshop for seventeen youth from the surrounding area and six local photographers. This workshop was the launch of a photography program at El Fenn Maroc, the non-profit organisation selected by The Giving Lens as their partner in Morocco.
Over the next two days, they spent time in the Marrakech medina, Bahia Palace and Jardin Majorelle, with the TGL volunteers training the group of eager youth on the art of digital photography.
At the end each was presented with a beautiful certificate to commemorate their participation.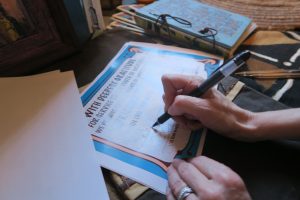 After the two full days in Marrakech, The Giving Lens Morocco Tour continued their travel with Open Doors Morocco to experience and photograph other beautiful locations in Morocco.
All in all, a most memorable and meaningful experience! Thank you to our partners and everyone who contributed to the success of this event!
Check out more photos on our social media sites!