We recently had a visit from our favourite kind of people – well, honestly, our favourite kind is every kind – but this is really a favourite: adventurous and eager to learn! These learners came from France through the HEM Business School as part of their International Week program.
We started out with a crash course in Darija, and everyone spoke eagerly and practised the Arabic glottal stops and hand gestures. Students laughed through conversations and confusions along the way, and one of the visiting students beat enthusiastically on the drum to accompany us in an Arabic song at the end of the class.
Judging by the lack of leftovers, everyone enjoyed the Moroccan mint tea (who wouldn't!) accompanied by delicious pastries made from almonds.
It's a good thing we fed these voracious travellers, because they needed all their energy for what happened next! Off we went to the medina to complete the Creative Interactions Marrakech Explorer scavenger hunt.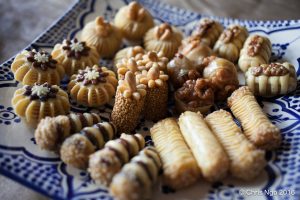 This Amazing Race style competition had the two teams going into the maze of streets within the
medina to complete various tasks. These included bargaining – some of them really wowed us with their skills! – and taking photographs of the classic tourist sites in the oldcity.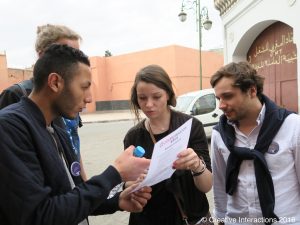 We were impressed by their adventurous spirit as they were even willing to try the famous Jemaa el F
na street stall food – snails in a spicy, herbal broth!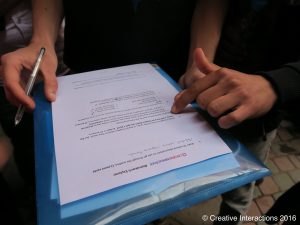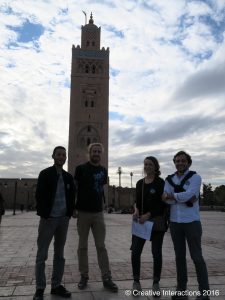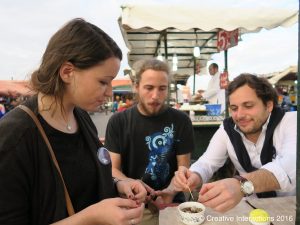 We also visited the orange juice stalls in Jemaa el Fna and everyone enjoyed a glass of freshly squeezed orange juice. They could proudly thank the vendors with their newly acquired language skills and say goodbye in Darija as well.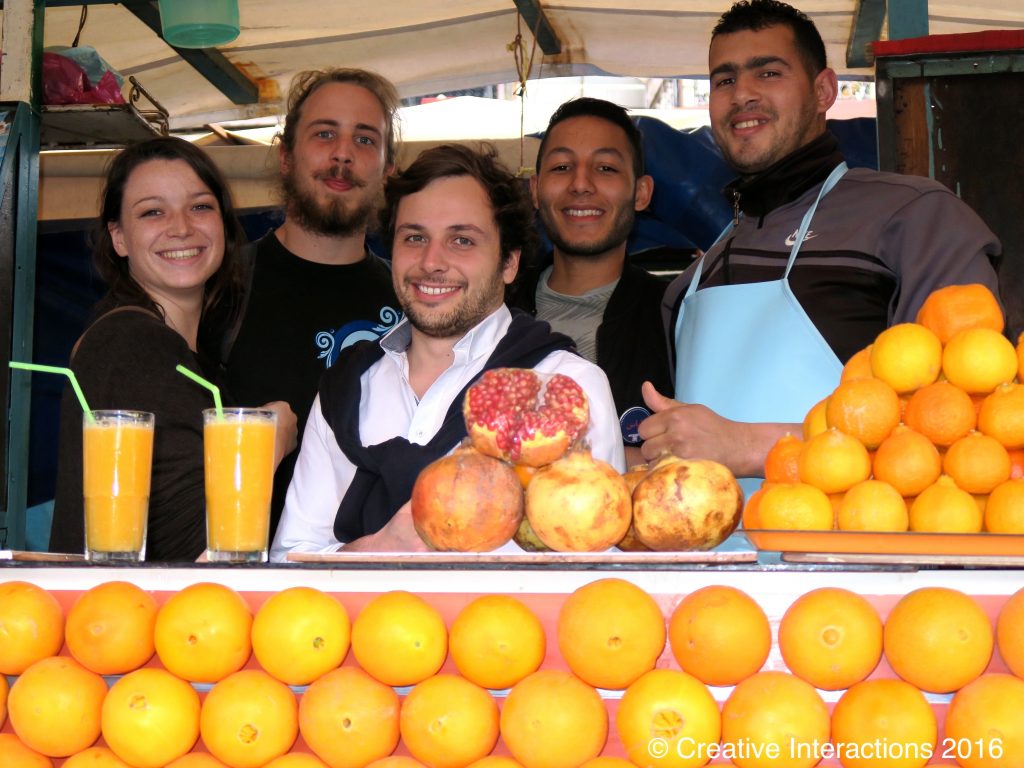 We ended the day with some well-earned rest at the Marrakech Henna Art Café, where the henna artists decorated a few willing hands with delightful designs and we debriefed the team-building activity.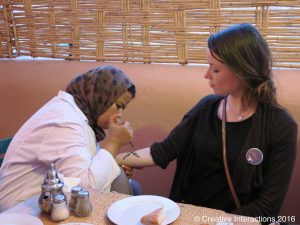 In every contest, there are winners and losers, and a prize. This scavenger hunt was no different. We distributed the "I ♥ Marrakech" badges to the winners, who could now navigate the medina with more confidence.
We waved the students off at the end of a pleasant evening, not without regret, but happy to hear them using their Arabic to say goodbye to us. We hope we will see them again soon!