Hot soup with warm bread … what better meal to have on a winter's day?
We were thrilled to welcome our latest client to Creative Interactions for a cooking demonstration with a focus on healthy options in Moroccan cuisine.
We started off with making "harira". This is a traditional soup that is eaten year round as an entrée but also as a light meal on its own. It is most popular during the month of Ramadan as Moroccans break the fast everyday with a bowl of harira.
This is such a nourishing soup with chickpeas, lentils and parsley in a tomato base.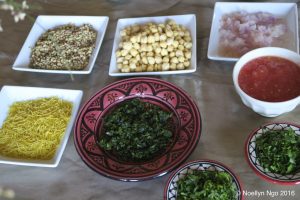 Then we moved on to prepare the dough for the Moroccan bread "batbout". Made with semolina flour, this is a simple and healthy option as it is cooked on the stovetop.
The soft, chewy bread is delicious and great for dipping into argan oil or honey for breakfast or with any dips or salads. Like pita bread, batbout is also great for making sandwiches.
We finished off by making two Moroccan salads: "zaalouk", with aubergine and tomatoes, as well as "mangoub", with fava beans. This has turned out to be a healthy vegetarian meal!
With such a feast prepared, it's time to sit down and enjoy all these wholesome and delicious dishes!