The winter rains have finally come! As they say "Better late than never".
So what better way to spend your time when it's cold or raining outdoors than to be indoors doing something interesting.
At Creative Interactions, we can offer you a range of language and cultural activities to pass your time in a fun, enjoyable and educational way. You could do them as a solo activity, with a friend or in a group and it's also a perfect family activity with kids.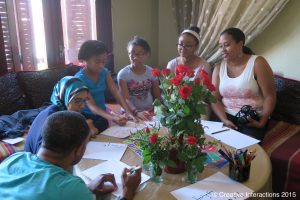 Explorer Courses – Offbeat Explorer (90mins) or Curious Explorer (3 hours) will give you a taste of Moroccan Arabic for travellers. Learn greetings, simple phrases, how to bargain in the souk, and more.
"Very informative and fun! I visit Morocco often and this is a good starting point for communication." Sue E, UK
"We learned while laughing and having a fun time." Janet S, USA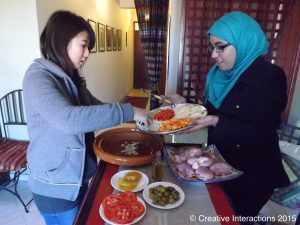 Cooking Demonstration – Guided by a local Moroccan, learn how to make a tajine or couscous or Moroccan soup or salads. Discover the hidden foodie in you!
"Lunch was delicious. I can't wait to try the recipe at home." Christina E, USA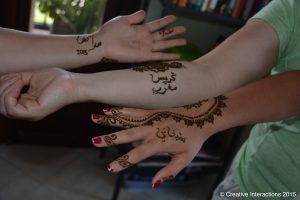 Henna Workshop – Learn about the history and culture of henna in Morocco with hands on time to create your own henna design. Perfect for a ladies afternoon or mother and daughter time.
"It was really fun learning about the history of henna and actually trying how to do it yourself." Andrea K, Canada
Connect with the culture, Learn something new, Experience Morocco in a fresh way!
So don't wait any longer … sign up for one of our activities now! Email us at [email protected].